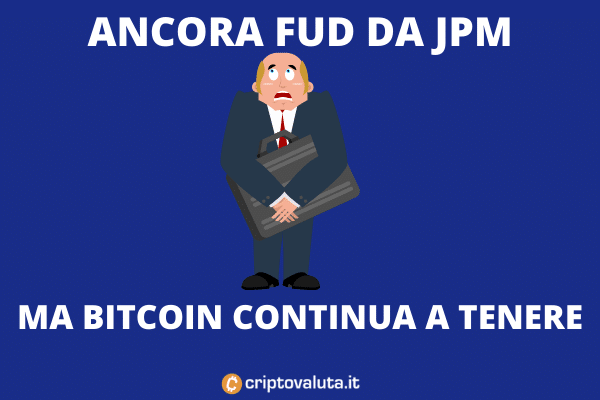 There's never been any good blood between banks and Bitcoin, despite the fact that several have recently taken an interest in BTC and even used it as an investment vehicle. The FUD continues, of the particular kind that is a mix of
ignorance, a desire to scare investors and to defend the US dollar.
JP Morgan's latest bone of contention is the now imminent acceptance of Bitcoin as the official currency of El Salvador – an operation that has already garnered the strides of so many old-school economists
and which has also seen IMF, World Bank and the US government among the opponents of implementation. Big banks play their game against Bitcoin and El Salvador
Now – but it's not a mystery to almost anyone – comes JP Morgan, which is no stranger to spreading totally unjustified FUD and with which we will unfortunately have to learn to reckon – with the markets, however, having learned to put into perspective what the most famous economic newspapers periodically circulate
.
What is JP Morgan's problem with Bitcoin and El Salvador
It is actually a non-issue. As our readers know very well, El Salvador will use Bitcoin as legal tender
, placing it alongside the US dollar – which has been the country's currency for several years now, after the disaster of the old national currency. A certainly curious and unique decision by President Nayib Bukele – which, as we correctly predicted – would have met with opposition from the bigwigs in the world of international finance.
JP Morgan could not miss the call and came back, taking advantage of the huge visibility offered by Financial Times and Bloomberg – newspapers not new to anti-Bitcoin FUD – on the issue
.
Activity for daily payments in El Salvador would be worth about 4% of recent transaction volume on Bitcoin's blockchain – and overall over 1% of the tokens [SIC] that have been exchanged in the past year.
That's the terse comment from JP Morgan, which also points to Bitcoin
's illiquidity as the main problem for those who will want to use it as a payment instrument. There's actually a lot of confusion – and we're going to dismantle this kind of criticism and FUD point by point.
When talking about illiquidity, JP Morgan is referring to the fact that in fact 90% (by their estimates) of Bitcoins ever created never changed hands. A percentage that, true or not, would still mean nothing. If the market were to make more demand for them, the price would move upwards to
encounter a new coin offering. And it's a market mechanism that applies to anything – and one that shouldn't create any concerns whatsoever for those who want to trade BTC every day.
Almost all transactions will be on the Lightning Network
This means that there will be no congestion consequences on Bitcoin's main blockchain. And that therefore these concerns of JP Morgan are also to be returned to sender.
Given the high quality of the bank's analysis, however, we tend to doubt that these are words in the wild and stem from a lack of knowledge of the protocol. It seems much more likely that a psychological war, albeit a soft one, is being waged against El Salvador, which is guilty of having tried to place another type of currency alongside the US dollar.
Markets care very little about what JP Morgan says
For Bitcoin this is great news, because if the markets continue to ignore heavy opinions such as those of JP Morgan, it means that BTC has reached an important solidity, which also allows it to resist the most unrestrained FUD, the one that comes from the finance that counts. An attack that frankly we believe is unjustified and that is part of the war, at times really incomprehensible, that the world of classical finance periodically tries to move to Bitcoin.
Bitcoin, however, has demonstrated an enviable strength. Despite the new wave of FUD continues to be traded above $ 34,000, having overcome more than unscathed a weekend that is now historically slightly bearish. The detractors – often not disinterested – of the Yellow Rocket Agency will get over it. Detractors who are then always ready to jump on top of BTC when there are opportunities for profit.
This isn't the first time JP Morgan has attacked Bitcoin and El Salvador – and as the X-hour is approaching, we suspect we'll continue to read about the Central American country's innovative initiative.