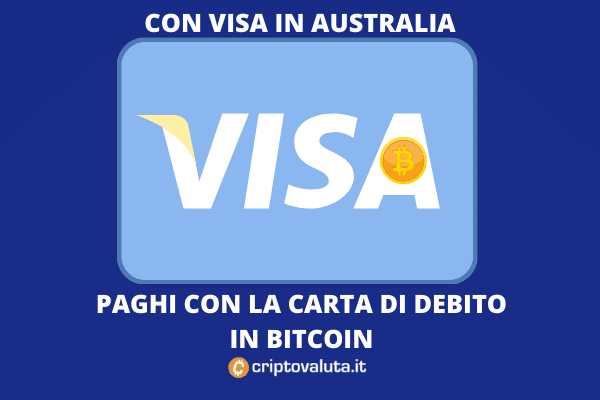 Cryptocurrencies are entering the Australian economy through the front door. Thanks to VISA, which has been one of the most active companies in this space for some time now, Australian users will be able to use very ordinary debit cards to spend their Bitcoins.
And this will be possible at any point of sale that accepts payment via POS with a VISA card, that is, the vast majority of stores and businesses, for any type of product, throughout the country. Thus, VISA's commitment to Bitcoin and the world of cryptocurrencies in general continues.
After those of Crypto.com – here's VISA committing itself directly
The digital payments giant is taking the lead, leaving behind even long-time rival Mastercard, which is also setting itself up to be central to the cryptocurrency-based economy of the future
.
Extremely bullish news for the entire sector, ideal for doing some long-term news trading, on all the major cryptocurrencies in the sector. We can do this with eToro (here to get a free trial account forever)
, which allows, for those who do not want to thin on choice, to rely on CopyPortfolios that replicate all the major cryptocurrencies in the sector. Or put yourself in the hands, with a single click, of the best traders thanks to CopyTrading (or simply spy on their positions).
VISA: the new debit cards that will allow us to spend Bitcoin
The project is a collaboration with CryptoSpend, an Australian start-up that deals precisely with creating bridges between the world of cryptocurrencies and retail trade. VISA, just yesterday, announced that it has allowed the company to issue debit cards under its brand, which will use the balance in Bitcoin
and other cryptocurrencies, which will be converted instantly at the time of payment.
What will we be able to pay for, in Australia, with these types of cards? Pretty much anything, as CryptoSpend's leader reminds us
:
We'll be able to pay for everything from movie tickets to a new pair of headphones.
NOVATTI, which already boasts a very important collaboration with Ripple
and is one of the main players in the digital economy in Australia, will be the one to physically issue the cards, with the project starting in September and which will also involve BitGo, as a custody service for cryptocurrencies.
Our customers range from studentsyou just turned 18 to 70-year-old grandmothers. This further emphasizes the public's growing appetite for using cryptocurrencies for everyday spending.
Not forgetting that also in Australia, Crypto.com also joined VISA's council last March – offering similar products. This is great news for all cryptocurrency enthusiasts, who would like to see their cryptotokens used every day, even for small expenses.
A revolution that no one can think of stopping
The tipping point has been passed for a few months now. The commitment of companies like VISA in this space make cryptocurrencies a concrete fact, in front of which even the most movement-averse state regulators will be unable to do anything.
With the hope that these are just the first initiatives in a cascading path, which will soon start to involve small banks and card issuers as well. After all, PayPal is also part of the space , with a very concrete commitment and many other agents of the economic space that we never imagined to see in the world of Bitcoin & co. All this in a very complicated moment for Bitcoin, which struggles to regain share, in a market phase of important stalemate and with fear that still dominates the big investors, accomplices also the general conditions of the financial market.