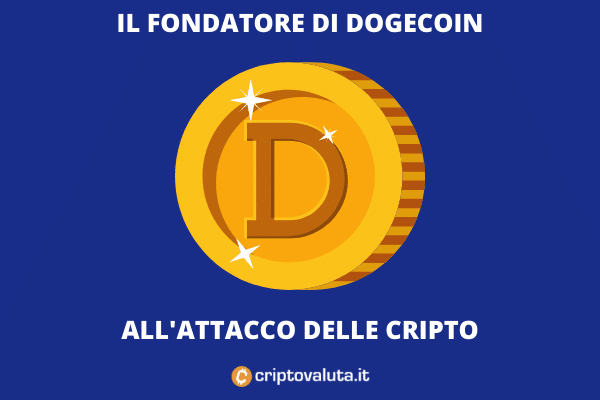 Few people will remember Jackson Palmer,
who was the creator of Dogecoin as a joke and who for some time now no longer has any kind of connection with the project. Personality of which we returned to speak yesterday, thanks to a long series of tweets against the world of cryptocurrency.
A very long j'accuse that has sparked a hornet's nest of controversy in the world of crypto enthusiasts
and on which we will try to express ourselves, taking stock of the situation. In summary, Jackson has accused millionaires, right-wingers and tax evaders of having taken possession of the crypto world, which, he says, has no intention of returning. The founder of Dogecoin does not stand: "Never again in the crypto world"
Controversy founded? Annoyance for a project born for fun that today is among the top 10 cryptocurrencies by market value? We'll see – what remains certain is that the words of the founder of Dogecoin
are very harsh – and worthy of some food for thought.
Jackson Palmer's long series of tweets
We'll start by analyzing the long thread
published yesterday by Jackson Palmer – commenting on the most salient points.
I am often asked if I will "return to cryptocurrency" or begin regularly sharing my thoughts on the topic again. My answer is a wholehearted "no", but to avoid repeating myself I figure it might be worthwhile briefly explaining why here

…- Jackson Palmer (@ummjackson) July 14, 2021
I am often asked if I will get back into cryptocurrencies or when I will resume sharing my thoughts on this topic. My answer is "no", but to avoid repeating myself I thought it would be helpful to explain why here.
The background is this. Palmer has long since abandoned the development of Dogecoin – which continues through other people – and even admitted to selling his coins
long before the market boom that led to Doge becoming one of the top 10 cryptocurrencies by capitalization.
After studying it for many years, I've come to the conclusion that cryptocurrencies are basically a right-wing, hyper-capitalistic technology created to amplify the wealth of its proponents through a combination of tax evasion, lack of controls, and artificially created scarcity.
This is the most prickly node of the
criticism. It is not known what he is referring to when he talks about the right – though the suspicion is that the attack is on the more libertarian wing of the movement, which resents state control and meddling in cryptocurrencies, as well as in other areas.
Despite claims of decentralization, the cryptocurrency industry is controlled by a powerful cartel of millionaires, who over time have managed to incorporate various institutions connected to the centralized finance world they said they wanted to replace.
The attack here is clearly towards Elon Musk (who has long shown interest in Doge), as well as the likes of Mark Cuban. Not to mention a blow to the world of investment banking, which today is immersed hands and feet in the business.
The cryptocurrency industry leverages connections to an outlaw business network, paid influencers and pay-per-play media to create a perpetual circle of "get rich quick" designed to take money from the most desperate and financially naive.
Heavy accusations these – which we don't feel compelled to comment on, except when Palmer, for whom we nevertheless have respect, points out the who, how, where and when.
The repercussions on Doge's market
There have not been – and it is obvious and expected that there will be. Although recognized within the community as one of the most important figures in history, Jackson has been living in self-imposed exile for some time now, the reasons for which we do not share, although we understand them.
Dogecoin's predictions remain unchanged and without anything, at least at this level, to invalidate them. However, with a cue that we want to leave our readers with for reflection on Jackson Palmer's long thread. What would you think if your creature born for fun – and also born to overcome some of the seriousness that has always enveloped Bitcoin turned into an asset in which people from the world of classical finance invested, who managed to push it to a value of over 25 billion dollars?
We understand Jackson Palmer's regret – just as we are ready to share his sadness for a meme coin that today has to play with the big boys. However, it is at least in our opinion absurd to make such criticisms. Cryptocurrencies have no political affiliation – and as much as there may have been criminal acts and organizations that abused them, we don't think we can say the opposite for the dollar and Euro. Is Jackson Palmer saying goodbye? Apparently so. He no longer recognizes himself in the cryptocurrency world – in which he participated for a limited period anyway – and we can only, if these are the circumstances, wish him the best of luck.