With a gain of more than 15% over the past 24 hours and nearly 24% over a week, Cardano is consolidating its position in the Top 5 largest cryptocurrencies, posting by far the best performance of this group.
Cardano (ADA) actually reached a high of $1.73 on Wednesday, a threshold the cryptocurrency has not touched since June 7. In this article, we'll try to explain this sudden bullish surge in Cardano, especially trying to determine if the move is sustainable, and if it's still time to buy ADA.
Why has Cardano exploded since yesterday?
First of all, it should be remembered that the Cardano 's rise yesterday was made in extension of a bullish movement that started on July 21, after a low around $1.02. In total, between that low and yesterday's high, ADA posted an impressive gain of over 65%.
Now, it seems that this move is primarily driven by the prospect of a technical upgrade to the Cardano network, the Hard Fork Alonzo.
This week, the team behind ADA – Input Output Hong Kong – launched a public testnet for the significant integration of smart contracts, revealing that the Alonzo Purple update is imminent.
The news was announced on Input Output Hong Kong's (IOHK) Twitter account earlier this week. Investors were reassured as the tweets confirm that the team is fully on track with the Alonzo roadmap set out by IOHK's founder.
Finally, it should also be noted that Bitcoin's gains, which were actively testing $46,000, also played a role in Cardano's price advance.
Key Bullish Technical Signal on ADA
There are indeed several factors that tend to show that thefuture of Cardano should remain bullish.
Firstly, the cryptocurrency is still a long way from its historical highs. Indeed, let's recall that Cardano scored a record high of $2.46 on May 16, 2021. However, it is currently trading at $1.67, or 47% below.
But more importantly, several major technical signals inviting to buy were issued yesterday, as we can see on the daily chart below.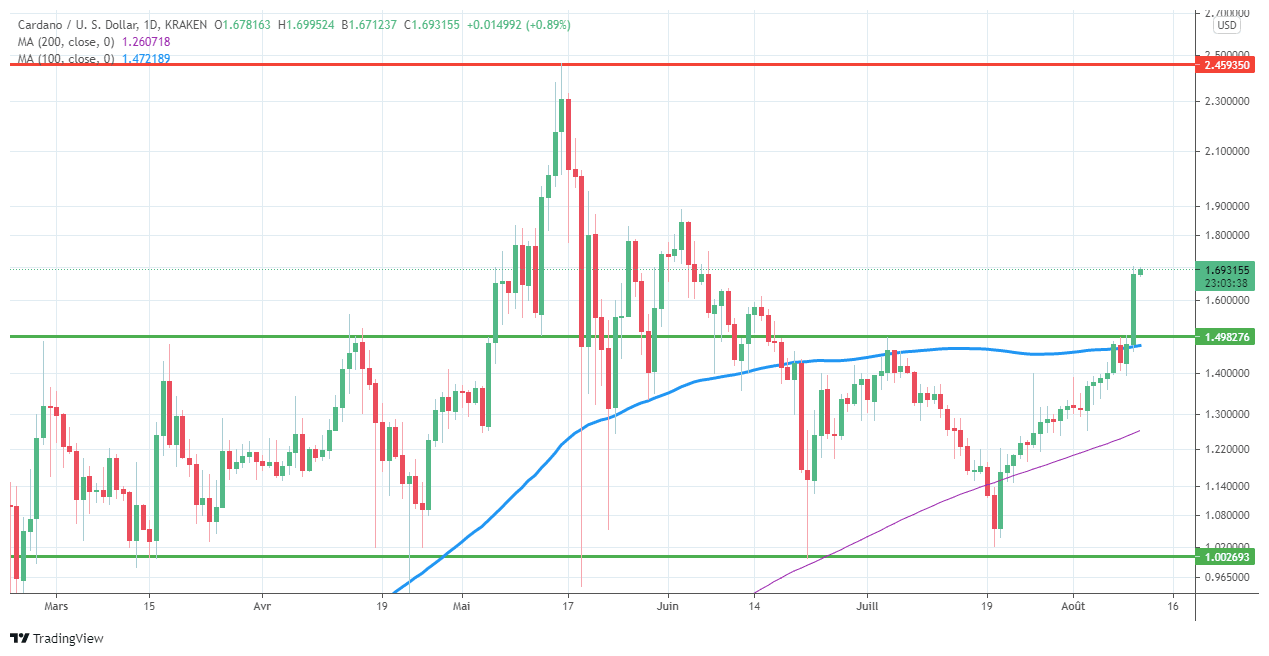 The chart shows that the Cardano broke through a major double resistance yesterday, consisting of the 100-day moving average, and the psychological threshold of $1.50.
We can indeed see that the 100-day moving average has had a close relationship with the Cardano price since the beginning of the summer, alternately serving as support and resistance.e.
The $1.50 chart threshold goes back even further, and has been the scene of multiple upside and downside reversals since March.
Thus, the fact that Cardano has managed to break through these critical barriers is a major medium-to-long term buy signal.
In this context, it is not excluded that the major psychological threshold of $2 will be quickly targeted by the ADA in the coming days, although resistance can also be spotted at $1.80. Above $2, a return to the historical highs of $2.45 should be considered.
Finally, despite this decidedly bullish outlook, it is possible that the Cardano will correct slightly before heading back to new highs. In this context, we recall that the supports of $1.60 and $1.50 should prove strong enough to contain a possible temporary decline.