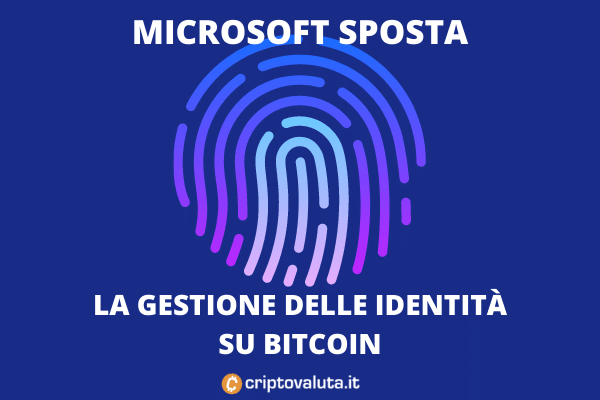 Bitcoin and Microsoft? It can. That's what's happening in the ION project, thanks in part to the leadership of libertarian and Bitcoin enthusiast Daniel Buchner. It will actually be a layer 2
built on top of the Bitcoin network, but it can be a vehicle for a different use of BTC from the store of value on the one hand, and a push for wider adoption of BTC around the world on the other.
Reason has taken care today to deepen ION – in a long interview with Daniel Buchner himself, extremely interesting for those who deal with identification systems and obviously Bitcoin.
An interesting initiative – and in particular bullish
for the whole ecosystem – since it demonstrates once again the technological superiority of Bitcoin compared to apparently similar systems.
All this while the market is experiencing a mini bull run, on which we can bet on eToro (here for a free demo account with virtual capital), through which we can invest on Bitcoin and also on all mining
or transactional companies (thanks to CopyPortfolios), or by copying the best ones thanks to CopyTrading – or by snooping in their wallets freely. A new
way to use your identities, thanks to Bitcoin
ION is a new system that will allow you to use a layer 2 on Bitcoin
network, which will aim to revolutionize the way we manage our identities online. A project sponsored by Microsoft, although the Redmond company will not have in any way control of the system, which will be based precisely in the last instance on the Bitcoin protocol.
We will therefore be owners of different aspects of our digital identity, or rather, all of them, and we will be able to prove any kind of detail related to our life, professional or not. With verified data, which we will be able to decide to share on different levels, or even creating different DIDs (this is the name of the individual identities).
The complete video of the interesting interview
An example of use? We want to share our qualifications with a potential employer. We'll be able to create a DID with our degrees in it – or perhaps our publications. And share it with the employer itself. For another type of business, do we need to prove that we played football? This can also be done.
All with a complete and total management of every detail that we are going to share. With us that we will be the only ones in possession of the keys – and therefore to decide
and the creation of our own identity. A true revolution – which is still in the alpha stage, but if it were to actually become reality – it could really revolutionize the world of online and offline ID management.
Why Bitcoin
Buchner's answer will leave Bitcoin maximalists very happy:
We need a support network, and when you look at the problem from an objective angle, you can consider several options. However, Bitcoin is clearly the most secure, the one with the highest degree of immutability and other aspects that are crucial for this kind of management.
A choice we absolutely agree with – for all the reasons we've covered in several specials dedicated just to Bitcoin throughout our business. Whatever the token or coin or protocol of choice for those of you reading this – none can offer the level of security that BTC does, which to date is 99.24M TH/s hashpower.
Why is this important for Bitcoin?
Because it is the recognition, by one of the most important companies in the tech sector on a global scale, of its technological superiority, even compared to projects that claim to be more efficient.
An extremely bullish choice on Microsoft's part – and one that confirms our hunches, contained in the BTC forecasts prepared by our specialists. There is also no doubt that this choice will upset those who owe a significant part of their business to identity management, such as Facebook and even Google.
But this will not be Microsoft's problem – nor Bitcoin's – which will only gain from this kind of relationship. Because despite the big tech 's flights of fancy towards next-generation projects (over which they can exert great control), the King, as we said yesterday, is back. And he's here to stay.